TRANSFORM YOUR BODY – 30 DAY BUTT AND ABS WORKOUT CHALLENGE
Do this 30 Day butt and abs challenge this month and you will tone up and boost your core, leg and butt muscles and body strength to the max.
This is one of the most popular challenges and if you stick to it and complete all 30 days you will you get guaranteed results.
This 30 day workout program has 4 different exercises which you have to do each day. The time spent doing the exercise slowly increases day by day to help you build up your core body muscle strength gradually, ensuring you are able to complete the final day of the challenge easily.
You only have to do the amount of time shown on the challenge chart once per day.
Make it happen.

30 DAY BUTT AND ABS WORKOUT CHALLENGE:
DAY 1: 10 Squats, 10 Crunches
DAY 2: 10 Lunges, 30 sec Plank
DAY 3: 10 Squats, 15 Crunches
DAY 4: 10 Lunges, 35 sec Plank
DAY 5: REST
DAY 6: 15 Squats, 15 Crunches
DAY 7: 15 Lunges, 40 sec Plank
DAY 8: 20 Squats, 20 Crunches
DAY 9: 15 Lunges, 45 sec Plank
DAY 10: 20 Squats, 25 Crunches
DAY 11: REST
DAY 12: 20 Lunges, 50 sec Plank
DAY 13: 25 Squats, 25 Crunches
DAY 14: 20 Lunges, 55 sec Plank
DAY 15: 30 Squats, 30 Crunches
DAY 16: 25 Lunges, 60 sec Plank
DAY 17: REST
DAY 18: 30 Squats, 35 Crunches
DAY 19: 25 Lunges, 65 sec Plank
DAY 20: 35 Squats, 35 Crunches
DAY 21: 30 Lunges, 70 sec Plank
DAY 22: 40 Squats, 40 Crunches
DAY 23: 30 Lunges, 75 sec Plank
DAY 24: REST
DAY 25: 40 Squats, 40 Crunches
DAY 26: 35 Lunges, 80 sec Plank
DAY 27: 45 Squats, 45 Crunches
DAY 28: 35 Lunges, 85 sec Plank
DAY 29: 50 Squats, 50 Crunches
DAY 30: 40 Lunges, 90 sec Plank
HERE ARE THE MOVES

SQUATS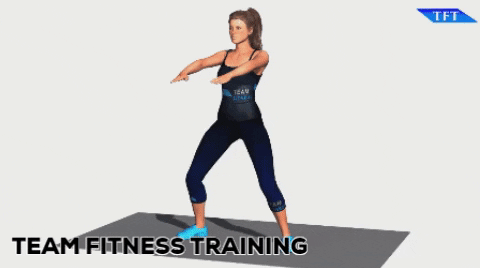 Place your feet at shoulder width apart while keeping your chest up and your abdominals braced.
Begin the movement by swinging your arms up towards your shoulders. At the same time, bend at the knees and drive your hips back like you're sitting in a chair.
Once your upper thighs are parallel with the ground, pause, then drive your hips forward to return to the starting position.
CRUNCHES
Lie flat on your back with your feet flat on the ground, with your knees bent at 90 degrees. Alternatively, you can place your feet up on a bench a few inches apart with your toes turned inwards and touching.
Place your hands lightly on either side of your head.
Keep your elbows in  so that they are parallel to your body.
Push your back down flat into the floor to isolate your abdominal muscles.
Gently curl your shoulders forward and up off the floor.
Continue to push down into the floor with your lower back.
Raise your shoulders about four to six inches only.
Hold and squeeze your abdominal muscles for a count of one.
Return to the start position in a smooth movement.
LUNGES
Holding a dumbbell in each hand, stand with your feet shoulder width apart.
Keep your shoulders back. And your back straight.
Take a long stride forward with your right leg. Your right foot should be in a position, that when you bend your right knee, your upper and lower leg form a 90 degree angle.
Slowly bend both your knees, to lower your hips until your left (rear) knee is just above the floor. Hold for a count of one.
Return to the start position by slowly straightening your legs and raising your body back to a standing position.
Complete all the repetitions for one set full set, then switch legs, or you can alternate between legs for each rep.
PLANKS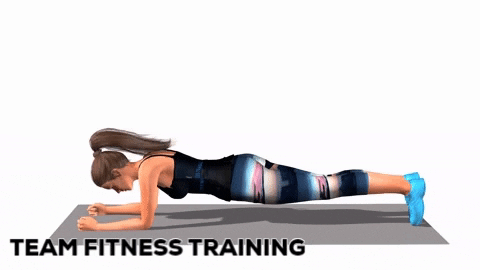 Get into a face down position on the floor supporting your upper body on your forearms. Your elbows should be bent at 90 degrees.
Extend your legs straight out behind you, supporting them on your toes and balls of your feet.
Keep your body in a straight line by tightening your abdominal and oblique muscles.
Hold for as long as possible.